Radiography is typically the first imaging modality used to evaluate cases of lameness following nerve or joint blocks. Glasgow Equine Hospital offers a full range of portable and hospital-based radiography services, using digital technology. Portable units are used for assessing lower limbs and are also used in surgery, while a state-of-the-art overhead gantry-mounted system is used for imaging the upper limbs, head, neck and back. Digital images are stored on a computer database, so all images are available almost instantaneously and online.
Ultrasound is a useful diagnostic tool for evaluating several musculoskeletal injuries and can be effective in monitoring healing. It can also be used in the investigation of colic, or for reproductive, and cardiothoracic examinations.
At Glasgow Equine Hospital, clinicians have access to a range of ultrasound machines, which are used regularly in evaluation of elective and emergency cases.
Magnetic Resonance Imaging (MRI) is a diagnostic imaging technique that produces highly detailed anatomical images of bone and soft tissue structures. MRI is particularly useful for evaluating bone and soft tissue structures within the equine foot, which otherwise cannot be accurately assessed using other conventional diagnostic imaging techniques. Results of MRI are interpreted in conjunction with other diagnostic investigations to reach an accurate diagnosis and develop a treatment plan tailored to each specific patient.
Our MRI is a dedicated musculoskeletal system from Esoate, the world's leading designer and manufacturer of orthopaedic MRI systems. This is the first equine Esoate O-Scan to be installed in the UK. The system performs high quality MRI examination of the horse's limb including the foot, fetlock, suspensory region, carpus and tarsus.  
In order to get the best possible image quality, we perform our MRI exams under general anaesthesia. When making this decision, we conducted a review of the anaesthetic records (2009-2015) of our elective orthopaedic procedures. Our anaesthetic mortality rate for this period was 0% and minor complications occurred in less than 1% of cases (0.8%). As with all anaesthetic episodes, a dedicated anaesthesiologist will ensure the highest possible level of care.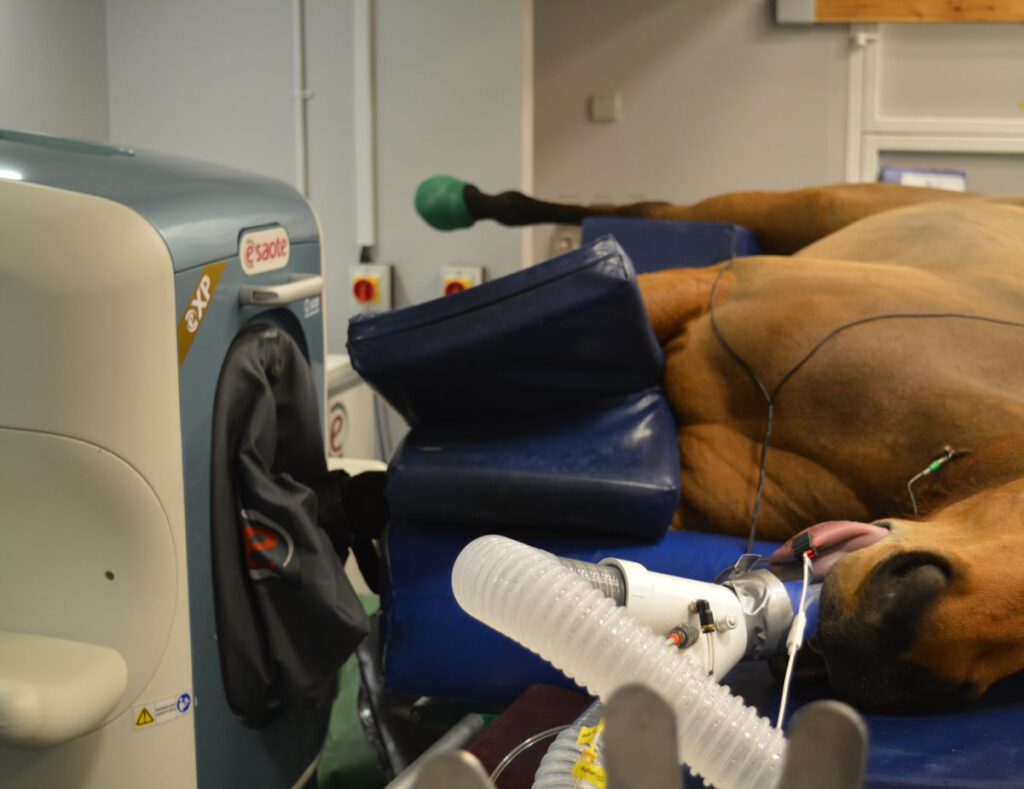 Nuclear Scintigraphy (bone scan) is an imaging modality that uses an injectable radioisotope to identify changes in bone metabolism before they become visible on radiographs. As an imaging modality, it is particularly useful for the diagnosis of hairline fractures, or abnormalities of the pelvis and back which cannot be evaluated easily with other diagnostic imaging techniques.
In most cases a bone scan contributes to a wider orthopaedic evaluation and is used on a case-by-case basis by clinicians at Glasgow Equine Hospital. Although the procedure is safe, the technique involves using ionising radiation. Therefore, horses must stay at the hospital for 48 hours after injection of radioisotope and during this time strict guidelines must be followed by personnel attending the horse.
We understand that it can be stressful for the client having their horse away from home and our staff will provide frequent updates during this time.
Endoscopy is an essential part of evaluation of horses with poor performance, abnormal respiratory noises, lung disease, stomach ulcers and conditions of the urinary and reproductive tract. It can also be used to assist with performing advanced dentistry procedures.
At Glasgow Equine Hospital, our clinicians have access to a range of endoscopes that can be used to evaluate these different regions in detail, assist with taking biopsy samples or certain surgical procedures. Glasgow Equine Hospital also has an overground endoscopy system, which allows us to observe and accurately diagnose conditions of the upper respiratory tract in exercising horses while the horse is being ridden. These conditions may be a cause of poor performance in equine athletes, that would otherwise not be apparent in a resting horse.