Treatments & Therapeutics
Clinicians at Glasgow Equine Hospital can offer a wide range of therapeutic treatments for a variety of orthopaedic conditions as part of a rehabilitation programme post-injury. Once an accurate diagnosis has been made, our clinicians can advise you on the most appropriate treatment options available, which include the following:
Extracorporeal Shockwave Therapy (ESWT)
ESWT can be used to treat a variety of strain-induced injuries and painful conditions in horses. Shock waves, when used to treat injured tissues, increase local blood flow to stimulate healing and provide pain relief. It is most often used to treat conditions refractory to conventional treatments, including proximal suspensory desmitis (inflamed suspensory ligament), suspensory branch insertional injuries, and impinging dorsal spinous processes ("kissing spine").
ESWT typically involves three treatments scheduled at two-week intervals and can be included as part of a rehabilitation program provided by clinicians at Glasgow Equine Hospital.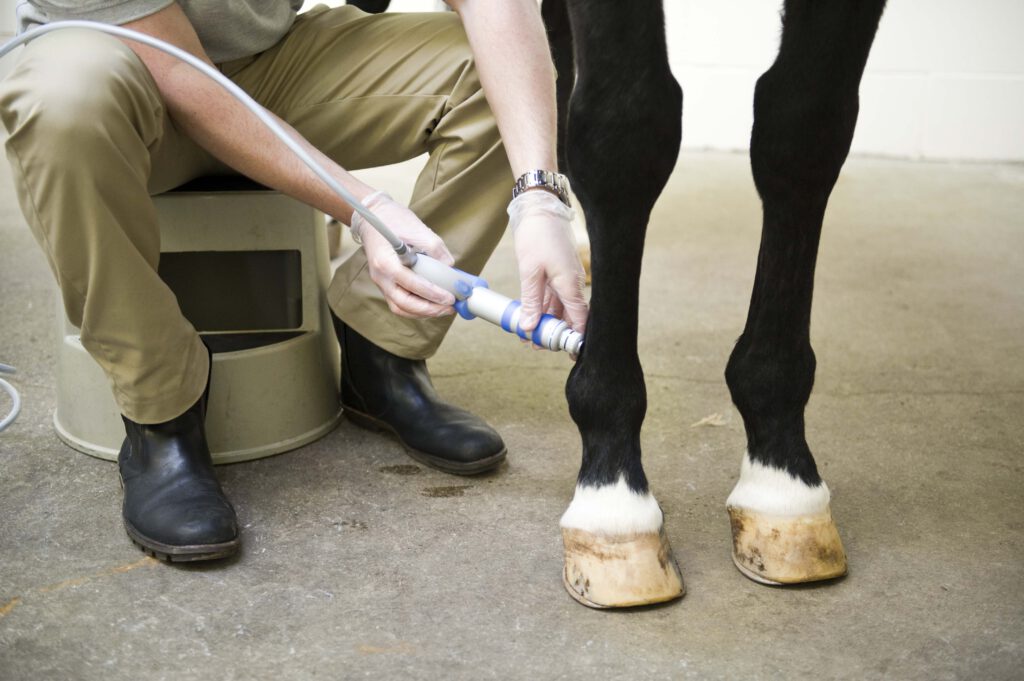 Current technology enables us to take cells and blood-derived products from a horse and implant the processed or cultured product back into the same horse. Known as regenerative therapies, these products can be used to treat a variety of orthopaedic conditions.
Two of the most common regenerative therapies employed at Glasgow Equine Hospital include Stem Cell therapy, Platelet Rich Plasma and Interleukin-1 Receptor Antagonist Protein (IRAP®).
The clinician responsible for the care of your horse at Glasgow Equine Hospital will discuss the potential benefits and risks associated with each therapy, together with post-implantation care and exercise.
Poor foot balance can contribute significantly to lameness and remedial farriery is frequently recommended as part of the initial treatment. Our clinicians aim to work alongside a remedial farrier to ensure a successful outcome for our clients and their horses.
Jim Ferrie FWCF acts as our consultant farrier and is at the hospital once a week to attend horses evaluated at Glasgow Equine Hospital.