Equine reproductive services and fees
The Glasgow Equine Hospital and Practice (GEHP) is offering a selection of equine breeding services conducted by our experienced reproduction vet, Kirsty Gallacher. We use the highest industry standard products and equipment to achieve the best results for our clients. Our goal is to showcase teaching and excellence in the field of reproductive medicine, and we are excited to be able to offer this service to the Scottish equine breeding community.

The prices listed are for common breeding related services. The total cost of treatment can vary based on the duration of stay and potential additional treatments required in some circumstances. Depending upon the number of horses you are planning on breeding and their location we may be able to tailor a package specifically for your circumstances to offer you the most affordable pricing. If you are located out with our practice zone, we may be able to work with your primary veterinary care provider to still be able to offer you reproductive services.
The GEHP offers a range of breeding packages to suit client needs. All packages are charged at a flat rate per cycle which includes as many scans, and routine treatments and medications as required to ensure the best possible result.
The package price includes all drugs used in standard preparation, artificial insemination, ultrasound examinations and palpations throughout the cycle as required and 14-day pregnancy diagnosis exam. If confirmed pregnant two further pregnancy examinations at 28 and 45 days of pregnancy are also recommended (but not included in the package price).
Pregnancy rate per cycle is generally 60-70% using fresh or chilled semen and approximately 40-50% using frozen semen depending on semen quality and mare fertility. The price is charged on a per cycle basis irrespective of result.
Livery is charged per day for the time your mare and/or foal spends in our care and includes full board.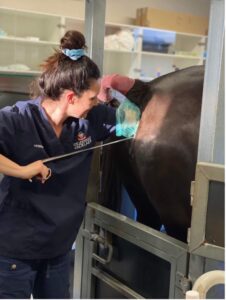 Breeding management and AI with fresh or chilled semen*
£250 (+VAT) excluding visit fees, visit packages can be tailored to you
*AI services with chilled semen can be performed at home depending on the nature of the mare and facilities available. Please call GEHP to discuss the costs for the package in this situation.
Breeding management and AI with frozen/thawed semen**
 £475 (+VAT) includes up to 3 days hospitilation
**With frozen semen, due to the nature of the semen storage and handling, the mare MUST be brought to the clinic when she is in oestrus and requiring frequent scanning.
We also offer:
• Pre-breeding examinations
• Breeding soundness evaluation
• Semen storage
• Embryo transfer
• Reproductive tract surgery
• Neonatal intensive care
• Foaling assistance